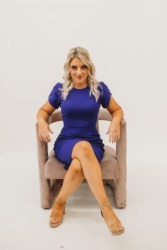 I am so excited to have the opportunity to help you navigate your way through the home buying process! First, let me introduce myself and share a little bit more about who I am.
Having lived in Henry County for over 25 years, I grew up in Stockbridge and graduated high school before moving on to other endeavors.
When I am not helping clients, you can find me spending time with my two beautiful daughters, Kaitlyn and Ella along with our bulldogs, Thor and Athens. If you can't find me there, you can find me out on the horse trails or at the local coffee shop.
I graduated from the University of Georgia in 2020 with a degree in criminal justice. I have a passion in connecting others within and around the communities in which they live and it is my goal to help you find your dream, home.
It is an honor to have you here!